Confident Caregiver Conference, October 17, 2023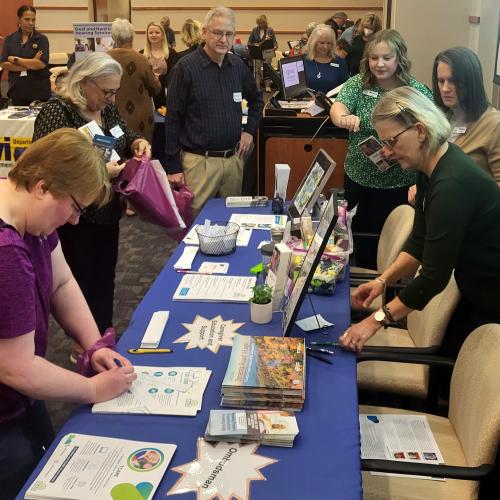 Our third annual Confident Caregiver Conference was a resounding success! Thanks to the sponsors, expert speakers, exhibitors, volunteers, Shenandoah Valley Ukulele Players, Cedar Stone School of Massage, and approximately 100 attendees who made it possible. 
Here's what our attendees had to say:
"It was a wonderful conference and I especially enjoyed meeting the participants. What a great service VPAS provided to support caregivers and to let them know services are available, best practices are known and there is hope surrounded by love."
"I was surprised by all those involved in welcoming folks to the VPAS program
how much useful, easily understood information that was packed into a 6 hour conference."
"I appreciated the extremely practical information. The conference was highly effective in equipping caregivers with tools that are immediately accessible."
While the Confident Caregiver Conference is an annual event, caregiver support opportunities are available all year long. Bring VPAS along with you on your caregiver journey.
 
Confident Caregiver Dementia Care Conference, May 17, 2023
On May 17, 2023 approximately 85 caregivers gathered at Blue Ridge Community College Plecker Center for an enlightening day of dementia education, resources and guidance. Melanie Bunn, geriatric nurse practitioner and speaker for Teepa Snow's Positive Approach to Care covered topics including:
Using a Positive Approach to Dementia Care

Dealing with Challenging Situations in Dementia Care

How Lifelong Personality Traits Impact Dementia Care
Attendees practiced newly-acquired skills through role playing and other interaction with one another. They also enjoyed delicious boxed lunches from Honey Baked Ham, giveaways and access to VPAS caregiver resources. 
Evaluation responses were extremely positive! 
Funding for the conference was provided by the Merck Foundation.
Confident Caregiver Conference, September 14, 2022
On September 14, 2022, VPAS hosted the Confident Caregiver Conference at the Bridgewater Church of the Brethren in Bridgewater VA. An estimated 115 people participated in person and virtually. 
The day began with Ukulele music and visits to exhibit booths. The first key note address was offered by Ron Culberson, "Do It Well, Make It Fun". Ron had attendees laughing and engaged, setting a positive tone for the day.
That was followed by breakout sessions presented by:
Dr. Ralph Caldroney: Navigating End of Life

Sabrina Burress: Taking Care of the Caregiver

Amy Homan DePoy: Tools and Tips for the Caregiver Journey
An Opening Minds Through Art presentation was also made by VPAS' by Kathy Guisewite, Caregiver Outreach Coordinator. 
The second key note address was provided by Ryan Miracle discussing Financial Health. Click here for a copy of his Financial Health Handout.
The final presentation of the day brought together all presenters for a Q&A session.  
Many thanks to our sponsors: Bridgewater Retirement Community, Clark and Bradshaw, Community Foundation Central Blue Ridge, Sunnyside, VMRC.