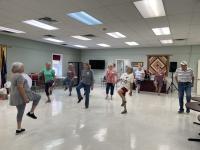 VPAS Cafes provide a welcoming place where seniors can enjoy a noon meal, meet new people and learn new things. VPAS Cafes provide a variety of life enriching activities including: exercise programs, educational programs, health related programs, crafts, music, guest speakers. Locations and times vary.  Learn More
In addition to the Cafes we offer a variety of ongoing recreational activities and are always adding more!
Click on the links below for more information on upcoming events!   
We've got something to get you moving on Monday mornings! Tom and Karen Whaley will be leading and teaching various styles of country dancing. They already lead and instruct line dancing classes in the Kendal at Lexington fitness center, and are excited to bring the experience to VPAS and the community.
Ongoing, every Monday from 10:30am - 11:30am
Location: Maury River Senior Services, 2137 Magnolia Ave., Buena Vista VA
Register here or call 540.261.7474 for more information.
Miss being able to quilt with friends? Always wanted to learn? Join the Quilters on Wednesdays at 1:00pm for group projects to create art, enjoy the fellowship, and continue an old hobby or start a new one.
Ongoing on Wednesdays, 1:00pm - 2:00pm
Location: Maury River Senior Services, 2137 Magnolia Ave., Buena Vista, VA
Register below or call 540.261.7474 for more information. 
Come and enjoy a casual game of pool at the Waynesboro Cafe Game Room! Every first Thursday of the month, the Cafe will open the game room from 11-1 to all adults 60 years and over in the local area who'd like some additional time to meet and socialize with other members. 
In addition to billiards being a much beloved pastime, it also brings many benefits to those who play; it enhances focus/concentration, contributes to flexibility, is a gentle form of exercise, and may diminish stress and signs of depression.
Billiards not your thing? There's also Corn Hole, Dominoes, cards and other games you can join in on. 
Every 1st and 3rd Thursday of the month, 11:00 a.m. - 1:00 p.m.
Waynesboro's VPAS Cafe Game Room, 325 Pine Ave. Waynesboro, VA 
Register Below or call or call 540.942.1838 ext. 110 for more information
Do you have artistic flair or just want to dabble in the arts? Join us for a guided watercolor painting session.  Materials are provided for this winter-themed, beginner level event. Your instructors will be the Joyful Painters, ladies who paint the things that reveal the power of joy. Brought to you by VPAS in partnership with Harrisonburg Parks and Recreation. Suggested donation $15. 
Date: January 22, 2024
Time: 2:00 -3:00pm
Location: Price Rotary Senior Center, Westover Park, 309 S. Dogwood Drive, Harrisonburg
Register below or call 540.615.5341 for more information. 
Voluntary and confidential contributions are always accepted and appreciated.